Qu'elles soient anciennes ou modernes, les voitures de sport anglaises sont souvent déclinées en vert, le fameux "British Racing Green". Il existe plusieurs théories sur l'origine de cette couleur. Pour les comprendre, il faut remonter au début du 20ième siècle...
La première édition de la coupe Gordon-Bennett se dispute le 14 juin 1900, entre Paris et Lyon. Il n'y a que 3 nations engagées : trois voitures françaises (des Panhard-Levassor), une voiture américaine (Winton) et une belge (Snoeck).
Au fil des ans, cette épreuve devient un événement de portée mondiale.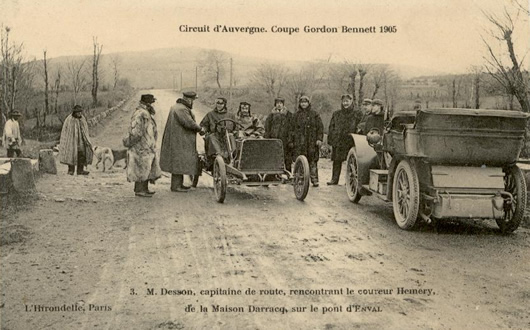 Lien utile : http://www.gordonbennettroute.com/background.html
---
Succès de Napier
Napier 30HP (1902)

moteur : 4 cylindres en ligne
cylindrée : 6435cc
puissance : 44,5 cv à 950trs/m
La France, premier constructeur automobile, remporte le Trophée en 1900 et en 1901. L'année suivante, une marque anglaise conteste cette domination... il s'agit de la surprenante Napier vert olive pilotée par
Selwyn Francis Edge
, seule rescapée du parcours Paris-Innsbrück. Suite à cette victoire inattendue, le jeune Automobile Club de Grande Bretagne [
2
] et d'Irlande se voit confier l'organisation de la future épreuve, conformément au réglement de l'épreuve.
La tâche s'annonce d'emblée difficile puisque la vitesse est limitée à 12Mph (20km/h) sur les routes du Royaume. Suite aux nombreuses tragédies survenues en octobre 1902 dans la course Paris-Madrid [3], il sera même envisagé de laisser la coupe sur le continent.
Ce n'est finalement ni en Grande Bretagne, ni sur le vieux continent mais en Irlande que l'Automobile Club trouve un espoir. Un projet crédible est proposé.
Avec le fervent appui des notables irlandais concernés par le parcours, une pétition est adressée au Parlement de Westminster. Les conditions de sécurités étant garanties par les autorités locales, une loie est promulguée en faveur de l'Automobile Club, qui obtient finalement une dérogation.
---
Leinster Leader, samedi 24 janvier 1903
START AND FINISH AT NAAS.
"The Committee of the Automobile Club of Great Britain and Ireland have decided to hold the race for the Gordon-Bennett Cup in Ireland, provided they can obtain the necessary authorisation from Parliament.

(...) They have selected Ireland because an open course was more easy to be found. The course suggested forms a rough isosceles triangle, with Naas at the apex, and Maryborough and Carlow at the base angles."
Leinster Leader, samedi 31 janvier 1903
LETTERS FROM MOST REV. DR. FOLEY AND MR. S. J. BROWN.
"In connection with the great motor race for the Gordon-Bennett Cup, proposed to be held in Ireland (starting and finishing at Naas) there is much correspondence in the current issue of the Automobile Club Journal. A Bill must be obtained to enable the race to be held in Ireland, and the Automobile Club are seeking support for a petition in its favour. This they are absolutely certain of obtaining from almost every public body and representative public man in the country. Already almost all the Irish members of Parliament have promised their hearty co-operation whilst numbers of the County and District Councils follow suit.

The Most Rev. Patrick Foley, Bishop of Kildare and Leighlin, writes :
In response to your circular, I have much pleasure in declaring myself an ardent advocate of the proposed route for the Gordon-Bennett Cup Race, 1903. As all the towns and most of the rural districts through which it passes are situated within my diocese, I am well acquainted with their inhabitants, and have no hesitation in stating that with the proviso respecting proper precautions contained in your circular, the proposal will be received with acclimation alone the whole line of route. Wishing the project every success.

Mr. S. J. Brown (chairman of the Kildare Co. Council) writes :
In response to your circular of 24th inst., I can safely promise, on behalf of my Council, that your committee may count upon their support for the proposed Bill to enable the Automobile Race to be held in Ireland and that they will do everything in their power to have the roads in good order for the occasion. There will be no meeting of the Council until the 9th prox., but I shall then bring the matter formally before them. If I might make a suggestion, it would be that it would be hardly necessary to begin the race at such an early hour as 3 a.m."
Leinster Leader, samedi 21 février 1903
THE DATE FIXED.
"(...) No objection to the course which has been mapped out in Ireland is anticipated from any of the competing clubs, and the only difficulty that now remains is the passing of a short special Act of Parliament legalising the race. The Irish members appear to be unanimously in favour of such a measure, and no indication of opposition has yet been given from any quarter. There is, indeed, no reason why the Bill should not be treated as a non-controversial measure, and passed by consent after midnight on an early day. An effort was made by the Kerry County Council to secure the holding of the race in their Co."
Leinster Leader, samedi 28 février 1903
TRIM RURAL DISTRICT COUNCIL.
"Mr. C Johnson, secretary to the Automobile Club, forwarded a petition to be presented to Parliament, with the view to passing a short bill enabling the international race to be run in Ireland, and expressing the hope that the members of the Council would sign the petition, also other influential gentlemen whose opinion might be thought to have some weight."
Leinster Leader, samedi 11 avril 1903
THE GREAT MOTOR RACE.
"The great race for the possession of the Gordon-Bennett trophy, which will take place in the first week of July, has an interest for Ireland which cannot be exaggerated. For the first time in her history Ireland will be the envy of the sporting world. She has been selected as the battle-ground on which to decide the supremacy of the latest inventions to revolutionise locomotion. France, Germany, England and America will enter the lists to fight out the battle of speed on the morning of the 2nd of July. The contest will not only be a test of speed, but a test of the native workmanship of each of the competing countries as well.

(...) Notices printed both in English and Irish will be freely circulated, illustrating the dangers run by crossing or running out on the course after a car has passed.
Each nation will have its own distinguishing colours. English cars will be painted green in compliment to Ireland, German white, France blue and America red, so that spectators will be easily able to distinguish the car's nationality, however fast they dash by. Punctually at 7 a.m. on the morning of the 2nd July Mr. Edge driving the first of the English green cars, will be despatched, followed by France, then America, and lastly Germany.

(...) The course will be kept clear by a guard of nearly 1,400 persons, and the whole length of the road will be roped off. The approach of the cars will be announced by buglers stationed at regular intervals, and all dangerous corners and bridges will be marked with flags. A request will probably be made to the farmers in the district which we are sure will be readily granted, to lend them carts and hurdles to block up all side roads and approaches. Intending spectators will do well to remember that on the day of the race the only way to the inside of the course will be through the "controls" at Kildare, Castledemott, Carlow and Athy. Through these towns the cars will be obliged to travel at a slow speed, preceded by a bicycle. The racing cars will be in Ireland several weeks before the contest, but will not be allowed to go round the course till the day of the race. Several fields have been purchased near the Ballyshannon cross roads on which large stands and enclosures will be erected for the accommodation of the foreign visitors - Sir C. K."
---
British Racing Green
Selwyn Francis Edge - Napier

Gordon Bennett Cup - 1903
C'est à l'occasion de cette 4ième coupe qu'il est officiellement demandé aux nations de choisir chacune une couleur différente afin de mieux distinguer les équipes. En 1903, elles ne sont que quatre à concourir : le rouge est attribué à l'équipe américaine, le bleu à la France et le blanc à l'Allemagne [
4
].
Les trois Napier qui débarquent en Irlande en juillet 1903 ont abandonné le vert olive traditionnel de la marque, et opté pour un vert émeraude, comme l'atteste le quotidien "Leinster Leader" dans son édition du 27 juin 1903 (extrait ci-dessous).
Lord Montagu confirme ce choix, et le justifie comme un geste de respect envers l'Irlande... mais cette référence à un hommage est contesté.
Coincidence ou clin d'oeil à l'île d'émeraude...Le "British Racing Green" est donc apparu officiellement en compétition en juillet 1903, en Irlande... il existe encore une petite controverse sur ce point puisque l'anglais Charles Jarrot pilotait déjà une Panhard vert sombre en 1901 dans la course Paris-Berlin.
Dans les années 60 cependant, Colin Chapman, le génie de Lotus, mettra un terme à l'hégémonie du vert britannique. Sa Lotus 49 de 1968 qui remporta le titre mondial cette année là grâce à sa technologie très avancée était blanche et rouge avec un liseré doré, sponsoring oblige...
---
Leinster Leader, samedi 27 juin 1903
LATEST DETAILS. - THE FINAL ARRANGEMENTS
http://www.kildare.ie/heritage/Gordon-Bennett-Race/Leinster-Leader-27-06-1903-9.asp
ARRIVAL OF THE ENGLISH CARS.
"On Wednesday the English racing cars arrived in Ireland. They were easily recognisable from their bright green colour and low build. The chief feature in their mechanical construction with regard to speed is that while the maximum speed attainable is limited to in or about eighty miles an hour, the mechanical arrangement is such as to render the cars very quick in starting and stopping. By means of a special clutch they can be started on their top speed, so that there is no loss of time in changing gear. By this quick starting and stopping arrangement the English team will have a great advantage in coming to a stop at the control stations, and being able to leave the stations at top speed. The cars have also the advantage of being able to go over the whole course without change of gear."
---
Le déroulement exemplaire de la course irlandaise - les conducteurs partaient, comme dans les rallyes modernes, un par un toutes les 7 minutes - permet aux compétitions automobiles de retrouver une aura auprès du public et des autorités.
C'est l'équipe allemande qui gagne l'épreuve grâce à la Mercedes 4 cylindres de 60 ch pilotée par le Belge Camille Jenatzy [5], devant les Panhard de Knyff et Farman : le vainqueur empocha 8 000 £ de prix et primes.
La Grande Bretagne conservera cette couleur pour les compétition internationales. Le "British Racing Green" sera officialisé plus tard et inscrit dans le Code Sportif International.
En 1968, la Commission sportive internationale de la FIA autorise les équipes à avoir recours au sponsoring extra-sportif. Les Lotus deviennent les premières monoplaces à abandonner leur livrée nationale pour les couleurs du cigarettier Gold Leaf...
---
Reportage TV
Reportage sur l'origine du BRG, présenté par Richard Hammond (TopGear).
---
Lord Montagu de Beaulieu , à propos de
La course Gordon Bennett de 1900...
"...the allocation of national racing colours-blue for France, yellow for Belgium, red for the United States, and white for Germany. This was not a complete innovation, for on the occasion of Paris-Bordeaux in 1898 the 'official' Panhard team of de Knyff, Charron, and Girardot had turned out in blue, white, and red respectively, symbolic of the French tricolore. Nor did this immediately establish a rigid precedent outside the Gordon Bennett series ; Mors cars were still painted red in 1901, and as late as 1902 the Renault, with which Marcel Renault won the light car section of Paris-Vienna, was red, and not blue."
La Napier de 1902...
"The car was painted green-Mr Henry Knox remembers it as an olive shade, and it is possible that the colour was selected at the instigation of Charles Jarrott. The 40 h.p. Panhard driven by Jarrott in the 1901 Paris-Berlin Race had been assigned the unlucky nymber '13' and Panhards sought to cancel the hoodoo by painting the car an equally unlucky colour-green. In spite of this (or perhaps because of it) Jarrott had finished tenth. Even in 1902, however, green as the colour was becoming associated with Napier touring cars."
"All the 1903 Napier racing cars were painted emerald green-this was a gesture of respect to Ireland suggested by Count Zborowski shortly before his tragic death in the La Turbie Hill Climb, and the green motif was carried to extremes by the Napier équipe, the pit staff in Ireland sporting neckties of this hue. Green has remained Britain's official racing colour from that day onwards, though the shade has varied with different makes down the years."
Leinster Leader, Samedi 24 janvier 1903
THE GREAT MOTOR RACE.
START AND FINISH AT NAAS.
The Committee of the Automobile Club of Great Britain and Ireland have decided to hold the race for the Gordon-Bennett Cup in Ireland, provided they can obtain the necessary authorisation from Parliament. The first race was run in France, and was won by a Frenchman. The same result occurred in 1901, but in 1902 Mr. Edge an Englishman, won the coveted trophy. There can be no question but that the success of the French cars gave a great stimulus to the motor car industry in France. In 1900 the value of exported motor cars from France was 290,360 ; in 1902 the figure had reached the sum of 1,062,040. It is calculated that 180,000 workmen are engaged in France in this industry. From these figures it will be easily understood why English motorists are anxious that the next race should be run in the United Kingdom. They have selected Ireland because an open course was more easy to be found. The course suggested forms a rough isosceles triangle, with Naas at the apex, and Maryborough and Carlow at the base angles... The race will start at 3 a.m., and end about 1 oclock in the afternoon. Elaborate precautions we understand will be taken to prevent accidents.
P.S. Bibliographie :
---

"British Racing Green"
Drivers, Cars & Triumphs of British Motor Racing
par David Venables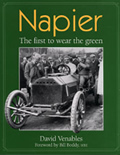 "Napier first to wear the green"
par David Venables. Forewoerd by Bill Boddy.
Ed Haynes. 1998.
En anglais. 215x275.
Couv carton + jaquette. 208 pages.
"Gordon Bennett Route"
A journey through counties Carlow, Kildare and Laois

Brochure à télécharger
---
[
1
] Si l'on exclu ce paramètre, la première course de l'histoire s'est déroulée le 18 mai 1895 en Italie, entre Turin et Asti.
[2] La Grande Bretagne est composée de 3 nations : l'Angleterre, l'Écosse et le Pays de Galles
[3] Paris-Madrid (1903) : course arrêtée à Bordeaux par ordre gouvernemental en raison des accidents causés : 15 accidents corporels, 7 accidents mortels (2 pilotes dont Marcel Renault, 3 mécaniciens, 2 spectateurs).
[4] jusqu'en 1934, première apparition des Flèches D'Argent, dont l'origine semble accidentelle. L'Association Internationale des Automobile Clubs Reconnus imposait en 1934, un poid maximal de 750 kg (hors essence et pneumatiques). Pour l'Eifelrennen 1934, les voitures passent à la pesée et celle de Manfred von Brauchitsch est mesurée à 751 kg. Il reçoit l'ordre d'Alfred Neubauer de poncer la peinture blanche de la carrosserie, laissant apparaître la carrosserie gris aluminium de celles qui vont devenir les Flèches d'Argent. Toutefois, Neubauer et Von Brauchitsch (qui publiera plus tard ses mémoires : Männer, Frauen und Motoren) démentent la théorie selon laquelle la « création » des Flèches d'Argent est accidentelle, insistant sur le fait que cette idée était volontaire.(source wikipedia)
[5] Camille Jenatzy : le constructeur de la "Jamais Contente", premier véhicule automobile à franchir le cap des 100 km/h...C'était une voiture électrique !



Erreur dans la requête envoyée à MySQL :
SELECT forums.* FROM spip_forum AS forums WHERE forums.id_article='447' AND forums.id_parent=0 AND forums.statut='publie' ORDER BY forums.date_heure DESC
Table 'jmcracing.spip_forum' doesn't exist